Being a subscriptions fan, I just can't miss the ONE Web Development Kit Membership launch. A unique subscription service to the marketplace's best templates and tools sound very attractive but you will never know if the service is really good unless you try it for yourself (or read a detailed review from the person who tried it). So, here's a review of the pros and cons I noticed after subscribing for ONE. Hope it will help you make a decision for yourself.
What's ONE Membership?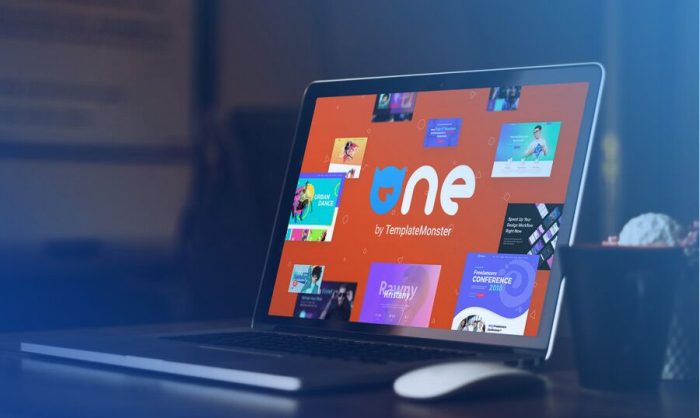 TemplateMonster team presented it as a unique subscription service created especially for website creators. The subscriber gets full and unlimited access to templates, graphics, and plugins – everything a developer needs to create a website.
There are three announced goals on the ONE's website – to save user's time, money and energy.
All the items web creator needs are in one place, so he won't have to spend additional time searching for something. The subscription owner gets unlimited access to products and doesn't have to pay for every product separately, so here's money saving. There are lots of helpful tools and expert tech support team that can save the developer some energy. Does it look good for you? It does for me, so I subscribed.
The first glimpse: main features
In the promo ONE team promised that all top products of TemplateMonster marketplace will be available for subscribers. That's why it was the first thing I wanted to check. There are about ten bestsellers, for example, Monstroid2, Imperion, BeClinic or JohnnyGo.
I checked the ONE subscription available templates list – and here they are. The newest and most popular themes are available for downloading, just as promised. I like when promotion text is correct – it creates a positive impression from the start. Now, let me describe the other features in details.
The number of available items
ONE is quite a big treasure crate. The current quantity of items is big and the team constantly add new ones. Almost all freshest templates that appear on the marketplace are also moved to the ONE library. I will mention the numbers that are relevant to the moment I write this article. When you will be reading it the quantity could be bigger.
Unlimited download
They are indeed unlimited. You can download as many different products as you need and want. I haven't tried to load more than 10 themes, but according to the documentation you won't have any problems even if you would like to get, literally, all of the offered items.
The products go with an unlimited license, which means you can use one template as many times as you want. However, all the themes you didn't use somewhere will become unavailable when your subscription will be over. It will affect only the themes you didn't install to a website. The ones you did will be available and get updates constantly, as before.
Additional services
There are about ten of them, but those items are not included in the subscription. If you would like to order one of them, you will have to pay an additional price. The services look good – there are a Speed and SEO boosters, Ready-made website package, Hosting registration and others. I didn't need any of them so I haven't tried to offer it, but I guess they will be really useful for beginners and even professional developers.
Themes I tried
I downloaded and used several of the top templates available in ONE library and I liked it very much. Professionally designed, lightweight, smoothly working – everything you expect from a high-quality product. I will describe a couple of them, so you will know what you will be dealing with.
The most sufficient of its features is its speed. This theme is extremely light, it loads in the blink of an eye and that's brilliant. Modern users are very impatient and loading speed becomes very important for the website's traffic. Besides that, this theme is very flexible and versatile. There are more than 20 skins for it included to the theme package. They help you to create a website design for a specific niche much faster and simpler. You just choose the proper skin and then customize it a little so it suits your needs. The theme is compatible with Elementor Page Builder and could be easily re-shaped by just drag-and-dropping elements to the page. I, personally, use Elementor, so compatibility with it was a sufficient advantage.
I didn't want to register for Shopify, so I downloaded an eCommerce theme that is compatible with WordPress. With the usage of WooCommerce plugins, every WP website could be transformed into an online store. WooStroid2 the theme works with WooCommerce and is designed to fit any type of online shop. This theme is also versatile – about 15 skins for different stores like cosmetics boutique or gadget shop. The features like drop-down mega menu and excellent sorting options are a must for modern eCommerce website, so the theme has understandable navigation. Multicurrency and multi language modules allow expanding the shop to the international scale without any additional plugins.
I've also taken a brief look at the BeClinic, Chantalle and JohnnyGo WordPress themes that are also top products of TemplateMonster marketplace, but they are more specific, so I won't describe it. Download them and look for yourself.
Plugins I can't miss
As I said previously – I'm an Elementor Page Builder devoted fan. It is really helpful and convenient; makes website creation much easier. It was a very pleasant surprise for me to find Jet plugins available for download in the ONE library. If you haven't met Jet plugins before – those are useful extensions for Elementor. They add some functionality to the Elementor administrative panel and allow you some more "tricks" with it. There are 13 Jet plugins for now but new are created almost every month. I would like to tell you about two that are my favorite ones.
This one really rocks and I'm not kidding. It adds more than 40 widgets to the Elementor customization dashboard and that is really convenient. Some of the functions are similar to the existing Elementor widgets, but most of them are unique. And yes, you can create all those blocks even without an appropriate widget but it will take much more time. For example, you can create pricing tables using existing widgets, but it will take about an hour. Or you can use a ready-made JetElements Pricing Tables widget and create a pricing table in a few minutes. If you will get a subscription – try it for yourself, I bet you won't regret it.
I can't imagine a modern website without any animation effects. Can you? Websites that don't have even the smallest hover animation will look old and outdated. So, this plugin adds eight widgets to the Elementor dashboard that help to create animation on your website. Parallax effect is not an original feature anymore, for modern websites it is more like a must, so JetTricks give you a widget to add it to your homepage without any problems. Besides that, it helps you to create sticky columns, unfold buttons, hotspots, tooltips, and particles. A very useful plugin for your collection, I strongly recommend to use it.
WordPress plugins are not the only extensions available for ONE subscriber. If you are a PrestaShop user (or want to try it) – library contains lots of modules for this CMS. Lookbooks, blog, security pack, 360 view – there are 26 plugins in this section for now but I guess this number grows constantly too.
Other products
I have never used presentation templates. In fact, the last time I made a presentation in my life was at the university. From that time on I never needed to perform a presentation. However, that default look of the presentation sheets I saw back then in the university time was awful. That's why if you want and need to make a presentation for someone important, like a potential partner or employer – you should use some more beautiful PowerPoint template. ONE Membership library has plenty of them. I go through the section of PP templates very briefly but they look very bright and nice.
When you create a website design you need the hell lots of different pictures, icons, fonts, and logos. Buying all of them separately is too expensive, so I try to find nice bundles usually. However, ONE subscriber can find graphic elements right in the library. The choice is not huge (if to compare with specialized pictures and graphics subscriptions) but it will be more than enough for great website creation.
Tech Support
I never really needed the help of tech support. I don't know, maybe I'm lucky, but I was always could handle the problems which occurred with software by myself. However, I heard that TemplateMonster's tech support team is the best among theme selling marketplaces and I decided to check it by myself. All the items in ONE subscription library are supported by TM team no matter what vendor created them.
Ways of communication with a tech support expert:
Some common questions about pricing, terms of use and different conditions clients could ask in the Facebook group. The time of response is rather short and that is a huge plus because I hate it when in Facebook chat you have to wait a few hours for the manager to answer. Social media are for quick conversations!
The second way to get some help is to leave a ticket. That is a kind of text message you submit in a specialized form. Further conversation with the tech support specialist goes via email letters. This type of communication is best when you have some problems with the software. However, it is slower – the response and help usually came within 24 hours.
Finally, there is an opportunity to have a text chat with a tech support expert. Chat bubble appears in the down right corner. When I tried to start the chat, a got the notification that currently there are no available specialists, but I managed to catch the opportunity and talk with a nice lady in about an hour. The service was perfect, I have no complaints, but I have a small question, so the conversation was also short.
There is a service that gives you additional tech support opportunities – within that package, you can even have a phone chat with the manager. I haven't tried it, but I guess if there's some urgent issue it is great that you can get help immediately.
In general, I guess TM tech support is really one of the best in the market.
Pricing
ONE subscription costs only $19 per month. It is billed annually, so you will have to pay $288. That's all – you don't have to pay anything else and there are no other pricing plans. Everything is simple and clear. As for me – I would like there to be at least one more option, but it is still OK. The payment is affordable, at least for me.
Pros and cons
| | |
| --- | --- |
| Pros | Cons |
| A subscription service especially for website developers | If compared to other subscriptions – a small number of available graphics |
| Top products of the marketplace are included in the library | The items not installed to a website become unavailable when the subscription is over |
| Unlimited download | |
| Lots of useful services | |
| 24/7 professional tech support | |
Is it worth the money?
To my opinion – definitely yes. The service completely fits its presented description – it is a specialized subscription for website developers. It indeed has almost all the tools a web designer needs for his work. If you create websites for a living – the service will be time and money saving for you. It is ideal for web agencies of every scale, because of the unlimited downloads and an opportunity to use one theme as many times as you want and need. I liked this subscription and I recommend it to everyone.
Final thoughts
I like products of TemplateMonster marketplace because they are all professionally built and never made me regret buying it. So, ONE subscription was really a great surprise for me. I hope that given facts were enough for you to make a decision. Wish you to create fabulous websites that will attract users and be a profitable tool for their owners.