The world craves for exciting and thrilling narratives that will steal a way to their hearts. Those people who have something to do with writing want their stories to be heard. In this case, the Internet turns out to be this very thing that has the power to spark the interest and intrigue. It's a universal tool that allows you to express yourself. For this reason, we decided to present an ultimate collection of WordPress themes for writers and WordPress themes for professors that will make a stir on the Internet. Build your website together with one of these amazing themes and it will be completely possible to reach out to people.
Newsider – Splendid WordPress Theme
A future-proof template that will make sure that your website will always strike the eye of your readers. A great amount of whitespace won't draw attention from your content – it will decidedly improve readability of your text. In addition to this, Newsider will give you a total customization freedom. You will be able to choose the most eye-catching layout and then modify colors, fonts to make it fit your ideas.
BookGroup – Marvelous WordPress Theme
BookGroup is an elegant template that looks like your opportunity to step on the pathway of success. First-rate backgrounds and lovely colors won't allow your target audience to give a miss to your online-project. Meanwhile, a vast number of modules and presets that come together with a top-notch drag-and-drop builder will assist you in customizing the design of your template. Diverse blog layouts will allow you to catch everyone's attention by means of your informative articles that are displayed in a creative way.
HousePress – Unusual WordPress Theme
If you feel that a minimalist design is your perfect mean to achieve success, HousePress is exactly what you need to showcase your creative activity. Your road to writing prosperity will start from using a professional drag-and-drop builder that will allow you to craft your website. Moreover, your core audience will be impressed with a news smart box, carousel slider, and related posts that highlight the most crucial information. Finally, people will get a full description of your writing skills thanks to Cherry Services.
Editorso – Lovely WordPress Theme
Editorso is one of the best chances to present your talent in writing by means of the colorful and rich website. A marvelous WordPress Live Customizer will give you the opportunity to avoid mistakes and look through made changes in a real-time mode. In addition to this, this bright template comes alongside with an amazing fonts integration. It will make it possible to make your web-project more elegant or mischievous.
BookWorm – Minimalist WordPress Theme
A content-oriented theme designed exactly for avid readers and talented authors. Together with it, you will be ready to create your author's profile and give people a chance to find out more about their well-liked writer. Moreover, your fans should stay tuned for the upcoming releases or recently published books and this theme will provide them with it. By means of the author's blog, you can share some additional details on your creative works and its making.
MaxPaxton – Extraordinary WordPress Theme
MaxPaxton is a stunning template that will allow copywriters to get a vast number of orders. By means of Cherry Plugins (Projects, Services, Testimonials and Team Members), your potential customers will rely on your writing skills. In order to enrich the appearance of your website, this excellent template also comes pre-loaded with seven header styles and multiple layouts.
JackBaker – Magnificent WordPress Theme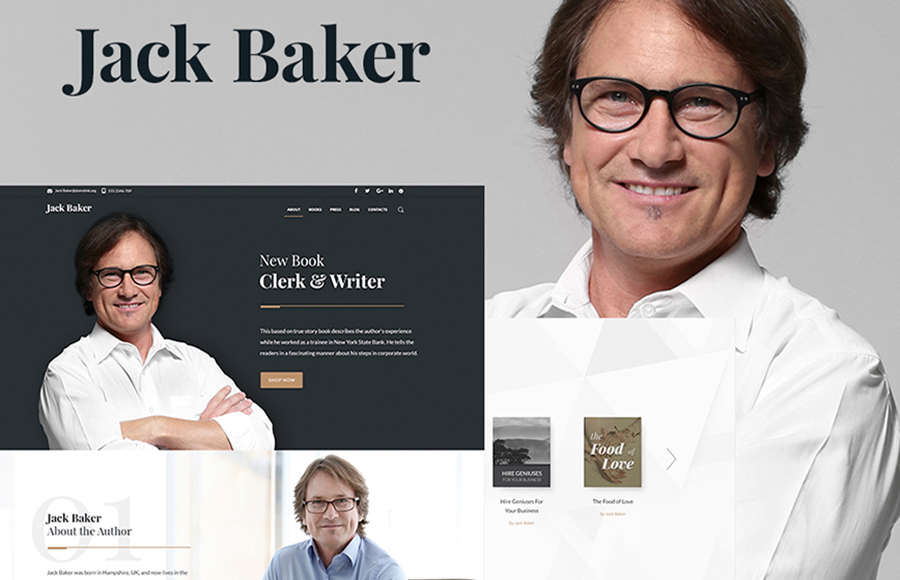 JackBaker is a highly-professional template that includes all advantages for building a top-notch website without any hassle. Stylish homepage layouts, eye-catching header and footer styles, marvelous services and contact pages were developed to make your online-project look classy. In addition to this, a fabulous collection of topical images will brighten up your website and make it look more attractive to its potential visitors.
Identiz – Modern WordPress Theme
This ultimate theme will turn out to be your wonderful tool to present your identity by means of the website. A couple of header styles will catch the eye of your visitors and make them scroll your website within seconds. Moreover, a professional collection of Google Fonts will refresh your online-project, meanwhile diverse custom widgets will enhance if functional aspect.
Jayo – Remarkable WordPress Theme
Jayo is a rich template made exactly for those who adore monochromatic designs and their appealingness. Various types of portfolios will assist you in presenting your eye-catching imagery in columns. In addition to this, you can place a stake on visualization and implement videos in your posts and portfolio. All in all, an infinite scroll will make your visitors be completely amazed at your online-project.
Everly – Attractive WordPress Theme
Everly is a wonderful theme that stands out from other variants due to its minimalist and content-oriented approach to design. A top-notch Revolution Slider will assist you in displaying your content in an innovative and eye-catching way. Furthermore, diverse post types (video, gallery, audio, link and standard one) will make it possible to present various types of information. Finally, you can make use of your custom favicon icon and logo in order to highlight your brand.
Moroseta – Stylish WordPress Theme
It's time to present your innovative and creative ideas by means of this gorgeous template. Guide your readers through your online-project by means of its user-friendly structure, four single post layouts, and five blog layouts. In addition to this, your visitors will be ready to communicate with you due to an implementation of the robust contact form.
JordanTurner – Wonderful WordPress Theme
Let your readers discover all essential information about your writing activity. Make use of various outstanding plugins that will make your website sparkle on the Internet. In addition to this, it's impossible to leave out of the account a visual aspect of your online-project. For this reason, JordanTurner also includes seven headers, three footers, and four blog layouts that will allow you to build a tailor-made website.
MaxCV – Modern WordPress Theme
Create a fully-functional website that will promote your writing activity on the web together with this attractive template. By means of the marvelous drag-and-drop builder, you will be ready to bring all your design ideas to life and achieve a custom look. A stunning Revolution Slider will give you the opportunity to present your information in a couple of new ways. An innovative set of widgets will enhance the functionality of your website and make your online-project more pleasant to browse.
BookStore – Magnificent WordPress Theme
BookStore is an amiable template that will make it possible to turn your website into a huge bookshop overloaded with a thrilling literature. Different animations (like Parallax or Lazy Load Effect) will make your online-project more engaging for your target audience. In addition to this, you can easily integrate audio and video in your website and impress people with diverse types of media
JackPeratte – Nifty WordPress Theme
If you want more and more people to read your books, you should definitely set your eyes on this classy template. Without a doubt, full-width backgrounds and minimalist layouts will catch the eye of your visitors. In addition to this, it will be possible for your readers to share the most likable posts on their social networks by means of social sharing buttons.
Sometimes it may seem difficult to find your audience that will adore your books. With the help of these templates, you will be able to make people fall in love with your creative activity. They blend such an outstanding functionality and appearance that it will be impossible to miss your website. Just make use of them and your success will be round the corner. We wish you a lot of loyal readers who will devour your books one after another. Thanks for reading!